Installation of Welcome Totems in Saanichton by the SVA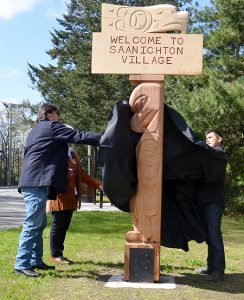 The Saanichton Village Association has chosen a date for the unveiling of the third Totem for Saanichton Village. The ceremony honours the Tsawout First Nations artist Doug La Fortune and his son Bear for this magnificent work of art.
The Totem is located just slightly west of Central Saanich Road on Mt. Newton X Road. The ceremony will be Sunday, July 6th at 2 PM. We have parking for guests at the Friendship Church (arranged by Ron Spelt) on the corner of Central Saanich and Mt Newton. We ask that no one park on the road. Parking may also be available at the Vet office across the road. I have spoken to the Central Saanich Police and they will have two constables helping with traffic and logistics. They are concerned about safety. If it gets too busy traffic wise we may have to move guests across the road for the unveiling.
This Totem was made possible by a generous donation from Spelt's Shell in Saanichton and the Totem was prepared and installed by the District of Central Saanich and we extend a big thank you to Karl Erskine (Parks) and Norm Doerksen (Superintendent of Public Works) and their staff for their commitment to the project. Job well done!!!
Jan Carroll
Saanichton Village Association
The new welcome totem on East Saanich Road – erected October 2012. This is the first of five Welcome Totems that will designate the key entrances to Saanichton Village. Carved by renowned Coast Salish artist Doug LaFortune, these red and yellow cedar totems will acknowledge the connection between Saanichton Village and local First Nations people.